Why should you update your home to make it more eco-friendly?
First and foremost, it will make it a healthier, more satisfying place to live. I don't know anyone who says "My home is "green" – and I hate it!" Just the opposite is true. Homes that are painted with No VOC paint and cleaned with non-toxic chemicals have fresher, unpolluted indoor air – and that's the air we breathe 90% of the time.
Second, living in a home that uses less energy and saves water will save you money – a lot of money – over the years.
Third, once you decide to sell, the return on investment at resale for green, sustainable spaces may be higher than in "conventional" homes that don't offer organic landscapes, energy-efficient appliances, water-saving faucets, and a well-insulated attic.
But if your house is not particularly eco right now, what updates make sense, especially if you're considering putting your house on the market sooner rather than later?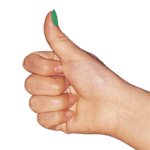 My rule of thumb is:
aim for improvements that make sense to your quality of life, are affordable, and are appropriate
for the area where you live.
For example, home sellers looking to target house hunters in D.C. – one of the most progressive cities in terms of sustainable trends – might consider smart windows that regulate climate due to the East Coast's famously cold winters and hot, humid summers. 
We've partnered with Zillow.com to bring you this list of green updates that will increase home values while providing you with results you can enjoy as long as you're living in your house.
5 Green Updates That Increase Home Value
1) Energy-efficient insulation
Many homes built before 1980 typically don't have enough insulation. Unless your home is located in a uniquely mild climate, bringing it up to current insulation standards makes it comfortable and can cut heating and cooling costs anywhere from 10 to 50 percent. This image shows the five places most likely to need insulation in your home. To determine the suitable insulation for your climate, check out the U.S. Department of Energy's ZIP code recommendations.
2) LED bulbs
Light-emitting diodes (LEDs) save homeowners and renters an average of $50 when used instead of 15 traditional bulbs, according to the Department of Energy. Moreover, LEDs last 10 times longer than outdated incandescent bulbs.  ENERGY STAR LEDs cost only about $1 to operate per year, compared to traditional incandescent bulbs, which cost $4.80 a piece to run and produce the same amount of light.  Keep in mind, compact fluorescent lamps (CFLs) and other fluorescent bulbs often contain mercury, so consult the Environmental Protection Agency guidelines for proper care.
Don't Miss: 7 Ways LEDs are Better than CFLs. 
3) Solar panels
Solar is here to stay, and it's no wonder why. People all over the world are feeling the effects of climate change, and solar offers one of the cleanest alternatives to the fossil fuels that cause this global problem.
While solar installation can be costly upfront, there are all kinds of creative ways to finance it, like using tax credits, leasing rather than buying solar panels outright, and taking advantage of discounts made through community purchasing programs.  The average cost of home solar panels has declined almost 50% in the last decade, plus homeowners can claim federal and state tax credits to lower the cost even further.  Solar shingles are a less expensive option and blend more seamlessly into existing roofs, but work like solar panels by capturing sunlight and creating usable energy.
Get Solar Panels for 20-30% Off. Here's How.
4) ENERGY STAR appliances, water heater and HVAC system
Without tearing down walls or hiring a team of workers, you can update your home simply by swapping out old appliances for ENERGY STAR -rated refrigerators, freezers, ovens, dishwashers, washers and dryers. Many utilities will provide a rebate when you update. They'll also cart away your old appliance, and maybe even pay you to recycle it.
Choosing ENERGY STAR models when replacing your HVAC system or hot water heater makes sense, too.  Pick the most energy-efficient model you can afford at a size that's not too big to meet your needs.
True Story: My Utility Company Gave Me $200 When
I Bought My New Energy-Saving Refrigerator.
5) Organic Landscaping with Water-wise Native Plants & Trees
Curb appeal can help sell a home and keep you smiling every time you make your way up the driveway. Beyond the clear aesthetic benefits of well-landscaped yards, strategically planting trees and shrubs can actually help with the cooling costs inside the home. Organic practices reduce the need for pesticides and fertilizers and builds healthier, more productive soil. Choosing native plants that do well in the amount of rainfall your region normally gets will reduce your water bill. Installing a drip irrigation system that delivers water to the plants that it can cut your water bill by 50%.
Want to be a little more ambitious? Check out this mini-guide we wrote just for you!

What updates have you done to your home to make it more livable and to increase its resale value? We'd love to hear from you!