Drugstores initially were places where we went to get medicine. While we may still get our prescriptions filled there, today's drugstores also sell food, cosmetics, toys, office supplies, and home goods—and a surprising number of these items are the opposite of medicine. Many contain chemical compounds that can actually make us pretty sick if we're exposed to them over time.
Here's a rundown of some of the most toxic drugstore items that you should probably avoid—or at least cut back on—as well as healthier alternatives.
1

 ) 

Tampons and Feminine Care Products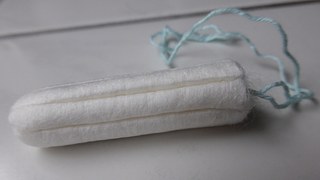 A disturbing array of toxic chemicals have been found in conventional tampons, menstrual pads, wipes, douches, and other feminine hygiene products. These chemicals, which include pesticide residues, dioxin, unknown fragrance chemicals and adhesives, have been linked to cancer, endocrine disruption, allergic rash, and reproductive harm. They raise alarms because vaginal tissue is particularly porous, which means that chemicals put into the vagina are easily and effectively distributed throughout the body, says Women's Voices for the Earth in its comprehensive report "Chem Fatale."
Safer Alternative: Skip products marketed as "vaginal cleansers." The vagina is designed to self-clean; douching and excess washing, in fact, can lead to infections, says WomensHealth.gov. Choose unscented tampons, as well as chlorine-free bleached or unbleached cotton tampons and pads. Reusable, washable menstrual pads are also available, as are washable menstrual cups to collect rather than absorb menstrual flow.
2)
Mascara
Mercury—a potent neurotoxicant that can cause kidney damage and potentially disrupt fetal brain development if the woman using it is pregnant—is sometimes used in mascara as a preservative and germ killer.
Stacy Malkan, co-founder of the advocacy group Campaign for Safe Cosmetics, says there is no reason "a known neurotoxin should be allowed" because safer alternatives exist. Unfortunately, there's no way you would know whether your mascara contains mercury or not, because companies are not required to list it on their product labels.
Safer Alternative: To be safe, search online for "mercury-free mascara" or shop at natural foods stores. Or, try this recipe for making your own mascara.
3)
Air Fresheners
Phthalates help disperse the fragrances in air fresheners into the air, where you may inhale them or absorb them through your skin.
Once these chemicals enter the blood stream, they can alter hormone levels or cause symptoms like headache, runny nose and itchy eyes.
The State of California notes that five types of phthalates are "known to cause birth defects or reproductive harm," reports the Natural Resources Defense Council. Exposure to phthalates in air fresheners has also been associated with increasing the risk of asthma.
Safer Alternative: First and foremost, root out what is making your home smell bad. Then open the windows and let fresh air circulate.
Keep bathroom floors and the base of the toilet clean, use fans to move moist air out of bathrooms so mildew doesn't develop, and don't leave old food on kitchen counters or in an uncovered trash can, where it will smell as it decomposes.
To add a pleasant fragrance to your home naturally, simmer cloves, orange peel, and apple cider or pieces of apple on your stove, and enjoy fragrant cut flowers like roses and lilies.
Don't Miss: Indoor Air Pollution Solutions: 15 Affordable Actions to Help You Breathe Clean Air
4)
Lipstick