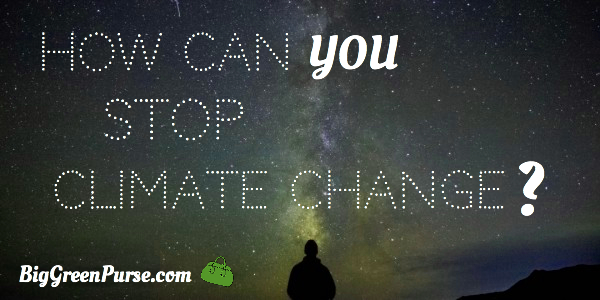 What can you actually do to stop climate change? World leaders are meeting this week in Paris to address climate change on a global scale. At Big Green Purse, we focus on what we ALL can do at home and in our communities.
One important step we can take is to embrace the science. There is now near unanimous consensus that climate change is happening. Scientists know burning fossil fuels like coal and oil releases carbon dioxide (CO2) into the atmosphere. That CO2 creates a gaseous blanket that traps heat between the upper atmosphere and the Earth, causing our planet to heat up. Scientists also agree that nations must transition to fuel from renewable energy sources in order to stop climate change.
Second, we need to switch from coal and oil to energy that comes from the sun, the wind, and other renewable energy resources. Already, the renewable energy industry is growing faster than almost any other industry in the U.S. But we can do more, by purchasing wind power through our local utility company, by installing solar collectors on our rooftops, or by joining community power plans that promote solar and wind.
Third, we can help stop climate change by saving energy at home. Insulating our homes, using energy-saving light bulbs and appliances, using a programmable thermostat, these are all measures within our reach.
Ready to get started?
Here's a round-up of the best information we've offered and the most helpful advice we've given on ways we can make a difference in our homes and communities.
Climate Change: What It Is, Why It Matters
Top 10 reasons to take climate change seriously
Climate change impacts on our health, our homes, our families, and our future
How climate change makes poison ivy worse
Why climate change matters to women

How You Can Help Stop Climate Change
10 ways to reduce the climate change impact of your house
Save energy, stop climate change, save money
Cool roofs save energy & money, help fight climate change
Carbon offsets shrink your carbon footprint
One way to solve climate change: clean cook stoves
Best electronics create least e-waste, climate change
6 things you need to know about the Clean Power Plan
5 sure-fire ways to lower your energy costs
If there's any other information about climate change you need, please let me know.
If you're wondering what technologies can help you start saving energy at home, we've pulled together examples in our Amazon store here.
We'd love to know what you're already doing to save energy, so please share!