The 2010 North American International Auto Show (NAIAS) has been bragging about how green its vehicles are this year, so we decided to review the lot for ourselves (and you, of course!). Here's what we found (you'll have to read the whole story to get why George Clooney snagged our best photo slot).
NAIAS is showcasing what it calls the most recent advances in automotive technology at Detroit's Cobo Center through January 24th.  Although NAIAS is featuring plenty of gas guzzlers, it is also highlighting dozens of electric, hybrid, and fuel-efficient vehicles.  On the ground floor, a 37,000 sq. foot exhibit called the "Electric Avenue" has been devoted solely to electrics.
Here are the highlights:

Price: TBA estimated $30,000-$40,000
Production Begins: 2010
Although the Volt appeared as a concept car previously, Chevrolet's much-hyped hybrid electric is on display in anticipation of its launch later this year.  Drivers can travel up to 40 miles per charge on the Volt's electric battery before the car switches to gasoline, at which point the car can go up to an additional 600 miles without a refill.  Personally, I believe the Volt is a game-changer.  Why? Click here to see what I told Fox News.
Price: TBA, estimated $25,000-$30,000
Production Begins: 2010
Unlike the Volt, the LEAF is greener because it's an all-electric car with no gasoline back-up system.  However, this benefit doesn't come without a tradeoff: it can only travel 100 miles on a single charge, making the LEAF better suited for local drives rather than long-distance road trips.
Price: $49,500
Production Begins: 2011
The Model S gives the consumer a choice of three battery options, providing driving ranges from 160 to 300 miles between charges.  While the hefty price tag may place the Tesla out of reach for many middle-class consumers (like me), if you're already in the market for a Lexus, Mercedes, or even a very flashy Camry, get your name on the Tesla list instead.
Price: TBA, estimated $25,000
Production Begins: 2010
Honda finally unveiled the production version of this vehicle after debuting the concept design years ago.  Two different transmission options will be available: 6-speed manual or the more fuel-efficient Continuously Variable Transmission (CVT).  However, the fuel economy is somewhat underwhelming even with CVT, topping out at 36 city/38 highway miles per gallon.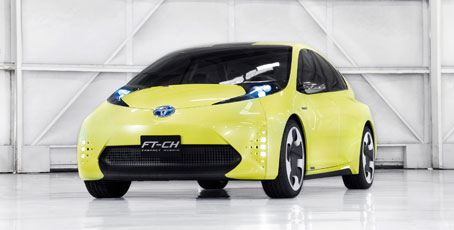 Price: TBA
Production Begins: TBA
As the next member of its hybrid vehicle "family," Toyota showed off the FT-CH as a lower-priced alternative to the popular Prius.  Intended for younger consumers, the FT-CH is also lighter and more fuel-efficient than its big brother.  The price and date of availability are unknown because it debuted as a concept car. Stay tuned.
As excited as we are about the development of electric cars, their price is not for the faint of heart. Consumers who buy these cars right now are doing so because it's a smart way to save gas, improve national security by way of consuming less oil, and help reduce air and water pollution. You may not be financially ready to order a Tesla yet, but George Clooney has. Thanks, George.
If you're interested in checking out the NAIAS cars for yourself, view a schedule of upcoming auto shows here.
You can also review EPA's list of most fuel efficient vehicles here.