Everyone seems to be grappling with what's "sustainable" and what's a sham.
The Federal Trade Commission held hearings in January to examine green marketing claims, and has slated another set of hearings for April to look at green packaging.

Meanwhile, the Senate has passed a consumer-safety bill that would reduce the presence of toxic materials (like lead and phthalates) in toys. The measure would also increase the staff and budget of the Consumer Product Safety Commission so the government could better track how manufacturers are really producing the toys sold in the U.S. (the House has already passed a weaker version of this proposal that is favored by the Bush Administration and manufacturers) and determine whether claims of sustainability or "eco" friendly are accurate.
Green marketing maven Jacquelyn A. Ottman asks, What is "sustainable?"
"Those in the know," she says, "know that sustainable development relates to the triumvirate of "environment," "economy," and "society"? Can a package meet all three of these criteria? Not!"
Ottman predicts "lots of confusion over claims such as "renewable," "biodegradable" "compostable" and "natural." Packages made with a blend of traditional and natural or renewable ingredients, e.g., cornstarch, can't always be counted on to compost either in backyard or even professionally-managed municipal facilities."

Mary Hunt, an expert on marketing to women who has thrown her clout behind a campaign to promote sustainable standards, is working to clear away the confusion by promoting the SMaRT standards developed by the Institute for Market Transformation to Sustainability (MTS).
As she points out at Sustainable Life Media, "It wasn't a slam-dunk decision to back SmaRT," noting that working in business for ten years "left me leery of any standard or claim. I wasn't about to push a standard onto my peers that didn't cover all the things that we care about, nor would fall short in the manufacturing or investment worlds. The standard had to serve many groups – well."
So, says Mary, "I started at square one and asked Mike (Italiano, of MTS) to list all the criteria that SMaRT addresses and why. He came back with 24 criteria broken into three sections, Pollution Reduction Minimums, Reporting and Labeling requirements, and Certification Process. With that list I then compared the top dozen standards that affected home furnishings on an Excel spreadsheet. I focused on furnishings because of a client I was advising and because the majority of our CO2 problems are tied to the building/furnishing world. Furnishings are also where women buyers meet sellers. Their decisions will make a difference.
"The Excel chart gave me the answers I needed at a glance. It told me:
• Which standards supplied a workable matrix for comparison of climate risk factors?
• Which standards were really "standards" created via ANSI guidelines and which were process templates created to sell consulting services?
• Which standards used ISO LCA (Life Cycle Assessment) practices and which ones used LCA "thinking." ISO LCA requires evaluation of 12 environmental impacts over product's entire lifecycle and pollution reductions from a LCA baseline. I didn't want just climate change numbers, I wanted to see all water, Earth, and air pollution accounted for.
• Which ones looked at the triple bottom line of environment, economics and social equity? As a woman representing women, the environment and social equity is a deal breaker. I wanted a standard that would support the issues we care about. If it didn't, women consumers wouldn't/shouldn't champion it. As someone working with the social media market, the standard had to be blogger proof – or as we say now – greenwash-proof.
• Which standards are third-party audited globally? I walked factory floors for ten years. If anyone knows how manufacturing will cut corners when no one is watching, it's me."
Mary also examined standards from a common sense point of view.
"If the clock on climate change is ticking," she asked, "what are the issues that would hold back adoption?"
Here are the sensible questions she came up with:
• Is it scalable? How fast can it be replicated? How accessible is it to everyone?
• Is the cost reasonable? Becoming certified is painful for manufacturer in both time and money.
• Is it all-or-nothing, or can manufacturers ease into compliance? Having multiple steps solves that problem.
• Which had the highest level of sustainability? That's where industry always ends up.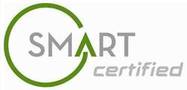 In total, Mary compared the different standards across all 24 criteria points – and SMaRT came out on top.
She hasn't been alone in thinking so. SMaRT has been adopted by major manufacturers like Forbo flooring; Wall Street has shown an interest; and municipalities struggling to get green and avoid "green washing" are getting on the bandwagon, too. Our new book, Big Green Purse, also encourages consumers to "get SMaRT" when shopping for green products and services.
"The faster we put sustainable standards such as SMaRT in place, the faster we give consumers something to cheer," says Mary.
And "when consumers cheer and buy certified sustainable products, the world wins."