Back-to-school shopping can put a real dent in a family's budget and create a carbon footprint a mile wide. These green back-to-school shopping tips show how you can put some 'eco' in the shopping beast and save money, too.

• Shop at home first. Most families have enough pencils, crayons, glue, tape and markers left over from the previous year to start the new year just fine. Use up what you have on hand before buying more. Encourage your kids to reuse last year's backpack, (lead-free) lunch bag, and pencil case.
• Create a list. Before heading to the mall, figure out what you need to get and how much money you want to spend. Most kids will bring home a supplies list from school. Cross off what you already have, then create your own smaller list of needed purchases.
• Ask for greener options. When you don't find green back-to-school gear at the store, ask the manager to order green for your future purchases.
• Rent or borrow. When it comes to musical instruments, sporting equipment, and tools for one-time classes like home economics or woodworking, figure out which items your child can rent or borrow.  This is particularly good for musical instruments – do you really want to buy a tuba just because your child is giving it a try this year?
• Remember the 3 Rs. Reduce (buy less, share, borrow, rent); reuse (think durable lunch boxes and water bottles), recycle (paper, plastic, electronics).

Best Lunch Boxes
• Avoid soft plastic carriers that contain lead, PVC, or containers treated with the antibacterial agent triclosan. You'll find good options at: ReusableBags.com , Laptop Lunch Box , and Mimi the Sardine lunch "bug" bags.
Get more information on safe lunch boxes here.

Backpacks
Ecogear and Ecotech Organic cotton bags – Made with non-toxic dyes, sustainable wood and organically-grown accessories, zippered internal organizer pockets, dual side pockets and adjustable shoulder straps. Ecogear bags are named for endangered animals and are made through planet-friendly practices.
Patagonia's Beeline  bags  – Recycled doubleweave polyester available in bright colors with lots of pockets.
And in case you want a bag that can double as a cell phone or iPod charger, check out:
Voltaic solar backpacks and solar chargers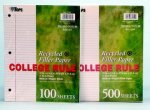 Paper and Notebooks
Look for paper made from post-consumer waste and bleached without chlorine. Some brands to consider:
Dolphin Blue  Greenline  New Leaf, plus the house brands at Office Depot and Staples.
You might be able to find NewLeaf's notebooks  on the shelf at Office Depot. DolphinBlue's notepads are chlorine-free in addition to using all postconsumer recycled paper.
Go "treeless" with EcoPaper's chlorine-free notebooks made from banana paper.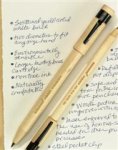 Pencils and Pens
Forest Ethics recommends Forest Choice   or Greenline Paper Eco-Writer   pencils made from recycled wood instead of Ticonderoga's standard #2 model made from California's Sierra Nevada forests. A better option? A mechanical pencil that can be refilled, not landfilled.
Woody ballpoint pens  from The Green Office refashion wood scraps from forests certified by the Forest Stewardship Council. Their recycled and refillable cartridges contain nontoxic ink.
Laptop computers
For a new energy-efficient computer, review the recommendations at epeat.  Keep in mind that a laptop uses far less energy and materials than a desktop.  Improve the efficiency of all your student's electronics by plugging them into an energy-saving power strip.
Getting college kids ready to return to school? Here's how I did it.
 For Your Shopping List
Check out Maggie's Organic for Back-to-School Fashions
Taming the Back-to-School Shopping Beast
Going Back to School? Go Green To Save Hundreds of Dollars
Environmental In-Box: Paper Notepads, Folders, Calendars & Binders