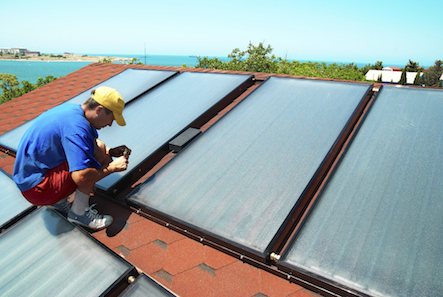 On September 21 in New York City, a People's Climate March may draw as many as 250,000 people from around the world. While raising awareness about the threats we and the planet face from global warming, the March will also focus attention on solutions. What can we do to save energy to stop climate change? As it turns out, the answer is "Quite a lot!" An added benefit is that, just about every step we take to save energy will save us money as well. Here are some smart solutions to save energy, stop climate change, and save money, courtesy of our partners in the UK, Npower.
Insulate to Save Money, Stop Climate Change

Insulation is probably the single most cost-effective action you can take to save energy at home. We lose substantial energy through leaky lofts and attics, crawl spaces and basements, thin insulation in wall cavities, and in cracks and gaps around doors and windows. The U.S. Environmental Protection Agency says that you can save as much as 50 percent on your energy bills by insulating. In the UK, it may amount to over a hundred pounds each year. Though insulating may require an upfront investment, many government incentive schemes mean that it is often possible to insulate your home at discounted rates or for free. In the U.S., check with your local electricity and gas providers to get a sense of the subsidies they offer to encourage homeowners to insulate. Have a look at the Npower site to find out more about how this works in the UK and how to apply.
Add Solar Panels
An increasing number of homeowners are interested in adding solar panels to their property as a way to wean themselves completely off the fossil fuels that cause climate change, as well as air pollution. Some companies ask you to purchase the panels upfront, but you can offset the cost by reaping federal and state tax benefits. The length of time it takes for these panels to pay for your initial investment varies due to a number of factors but is generally seen as being around 12 years or so. In other words, throughout those years, you'll be saving money you'd otherwise be spending on a utility bill. The advantage is that, when you pay a normal utility bill, that's it. You just keep paying over and over, year after year. When it comes to solar collectors, at the end of 12 years (or whatever the period of time is), you own the panels and continue to save money will having constant access to clean, green and free energy. From a financial point of view, one of the most interesting aspects of adding solar panels is that you can probably sell any energy you don't use back to the grid.
Change to LED Light Bulbs
If you want the most incredibly simple way of spending less and giving the planet a break then just change your light bulbs. One ENERGY STAR- certified LED light bulb may last 25,000 hours, use 75% less energy than a standard bulb, and save over $60 during the life of that bulb – even acknowledging that LEDs are slightly more expensive than incandescents.
Automate Your Energy Savings
Take advantage of technology like programmable thermostats, power strips, and motion sensors to automate your energy savings. You can program your thermostat to turn the heat down when you go to sleep or work, and up when you're heading home. The Nest Thermostat is particularly helpful. Power strips make it easy to turn off your electronics so they don't continue to draw power from the grid, which they normally do, even when you're not using them. Motion sensors will turn lights on when you enter a room and off shortly after you leave it. All these devices will save you energy and money, and they're readily available online and in most hardware stores.