Is anything more precious than our kids? And yet, frequently their toys are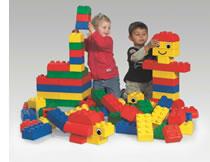 loaded with nasty chemicals that have been linked to a variety of illnesses. This is particularly true of toys NOT made in the U.S., and those covered in paint or made from plastic. Happily, in response to consumer demand for health and safety, many companies now make non-toxic toys that include dolls, art supplies, building blocks, stuffed animals, and much more.
So: Don't feel guilty – take action! Find safe, eco-friendly, battery-free, non-toxic toys for babies, toddlers and older children in the list we've provided below.
Whittle Shorline Railroad

Maple Landmark Toys

Natural Pod

Hugg-a-planet
Plus, take a look at this catalogue of arts and craft supplies that minimize indoor air pollution.
More Ideas for Non-Toxic Toys:
• Give alternatives to toys, like outings to a favorite park, museum, or children's theater.
* Keep it simple. My kids had a ball making tents out of a blanket and two chairs, and "forts" out of big empty cardboard boxes. Their drums were pots and pans, which they beat with wooden spoons. Almost every kid I know has way more toys than she can use.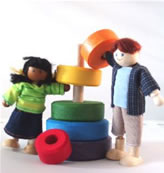 • Make your own. Here are easy homemade playdough recipes and fun arts-and-crafts projects.