Brighter Planet helps people fight global warming and build a clean-energy future by allowing people to devote points they earn on their new Visa credit card to non-polluting energy projects.

As CEO, Patti Prairie develops the group's strategic plan, leads product launches, oversees operations, and maximizes shareholder value. A long-time practitioner of conservation and efficiency, Patti joined the Brighter Planet team after an impressive career as a senior executive at IBM, American Express, Beneficial Management, and BankBoston. I caught up with her at the Good and Green conference in Chicago this past November.
• You seem to have hit on an ingenious way to raise money to support an important environmental initiative. How does the Brighter Planet Visa® card work, and what kinds of projects will benefit?
Instead of earning mileage or cash back like some other credit cards, you can earn points that help build clean, renewable energy projects in communities across the United States. We have chosen to work with NativeEnergy to source our projects and we are excited about the kinds of projects we are helping build through our card, like wind power in public school districts or on Native American lands; others are cow power on family farms. All are well suited to produce energy and meet Brighter Planet's stringent standards, but lack sufficient financing until now.
• Is what you're offering basically an affinity card for the environment? Why would I need it if I already have a card that benefits a group like the Sierra Club or Natural Resources Defense Council?
The Brighter Planet Visa® card is an affinity card that empowers individuals to take charge of climate change. Climate change is about something bigger than the environment; it will affect every aspect of our society from the economy to our choice of recreation.
Our card is unique in that our community of cardholders supports specific renewable energy projects and works directly to reduce carbon emissions in our country. It is dynamic in that we choose new projects on a regular basis, and it is transparent in that you will always know where your money is going and why it is going there. The work of the Sierra Club, NRDC, and so many other environmental organizations is essential to furthering a sustainable future for the world. Brighter Planet is a strong supporter of all groups that are putting their shoulders to the wheel.
• Who do you hope uses the card? Do you have to do a lot of shopping to benefit from the card?
Anyone and everyone should use our card! Most Americans now feel that it is their responsibility to address climate change. Our card provides an easy and convenient way to address the issue in our everyday lives. At this point, we can all take small steps like changing our light bulbs or large steps like buying more fuel-efficient vehicles, but there are very few intermediate steps. As a company, we want to provide easy ways for consumers to make each purchase a little greener.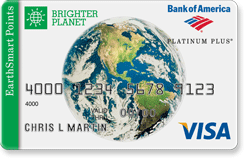 You don't have to shop more to make a difference! With every regular, every-day purchase you make with the Brighter Planet Visa® card, the rewards go toward building renewable energy projects that lessen the impact each purchase has on the environment. Certainly, the less you buy, the smaller your individual carbon footprint will be, thus the amount of carbon offsets needed to negate your impact is smaller.
• Is it better to use the card for some purchases than others? Are you advocating using the card to offset specific types of purchases (i.e., would you use it to buy a refrigerator, since you could get an "automatic" offset of sorts from the purchase)?
You should use the card for any and all purchases because the more you use it, the more renewable energy will be built. Some cardholders have even told us that they are using their Brighter Planet Visa® for their year-end charitable contributions – giving to their favorite charities and the earth at the same time! The more you and your family use the card for your regular purchases, the closer you can come to offsetting your entire carbon footprint, thus eliminating your personal contribution to climate change. We think this is powerful.
• How do you answer critics who claim that a card like this simply encourages more consumerism, which has so many negative environmental impacts?
Certainly, the best thing that a Brighter Planet Visa® cardholder can do to lessen their contribution to climate change is to practice mindful consumption. As a company, we are not encouraging cardholders to buy more; in fact, we are very committed to helping individuals understand how their lifestyle choices contribute to their footprint. Our motto to help guide individuals in their own efforts to adapt their lifestyles is "Conserve what you can, offset what you can't." To put it simply:
• Reduce greenhouse gas emitting activities (e.g. carpool to work)
• Replace dirty technologies with greener technologies (e.g. get rid of incandescent light bulbs)
• Offset what you can't eliminate (e.g. use your Brighter Planet Visa®card)
On our website, www.brighterplanet.com, our cardholders can set up a carbon footprint profile, track their progress, and set goals to lower their personal consumption.
• Many people feel carbon offsets don't really make a difference, since they allow people to continue extravagant or "earth wasteful" behavior, and then simply "pay" for it through their offset. Presumably, you disagree?
I believe that offsetting plays a crucial role in the fight against climate change. It is often difficult for individuals and families to alter certain behaviors, whether it's how they make their living, what kind of house they live in, or how much money they can spend on greening their lifestyle. It may not be practical, for instance, for carpenters to drive a Prius to and from the job site; others simply cannot afford to buy a new, fuel-efficient car.
Shared services – that build our roads, fund our schools, support our military, and light our streets – make up over one quarter of the average carbon footprint. We benefit but do not control these. Yet cardholders can tackle that aspect of their carbon footprint through our cards' rewards of offsets.
The Brighter Planet Visa®card educates consumers and allows them to do something more with their rewards: help communities build clean, renewable energy. I'm proud to be playing a role in that.
• How will you measure the success of your effort?
We will measure success by building a community of card-carrying individuals who are making a significant contribution to a clean-energy future. Not only will these individuals be addressing their own carbon emissions but also collectively creating sizable impact. To put this into context, if 100,000 Brighter Planet cardholders each spend $600 on their card in one month that earns 60 million Earth Smart Points and buys 60,000 tons of carbon offsets. This is equivalent to taking 10,000 average cars off the road for a full year or powering and heating/cooling 5,000 homes for one year!
• What environmental benefit do you project a person/family can achieve by using your card for 50% (or some other appropriate number) of her/their purchases?
The average American uses a card for more than $12,000 of purchases each year. If 50% of that was with the Brighter Planet Visa®credit card, the renewable energy created would be the equivalent of taking an average car off the road for a year AND, with Bank of America's 50% match through December 2008, heating/cooling the average American home for a year. Our card makes it easy for individuals to make each purchase a little greener. The collective potential is staggering.
• What about this card might be particularly appealing to women?
This card is appealing to women who are concerned about making a better world. Many people think that in fifty years our children will be asking, "Why didn't they do anything to fight climate change?" We won't have any excuses because the solutions are here, right in front of us. Now, we all need to commit to do our part to fight global warming and create a clean energy future.