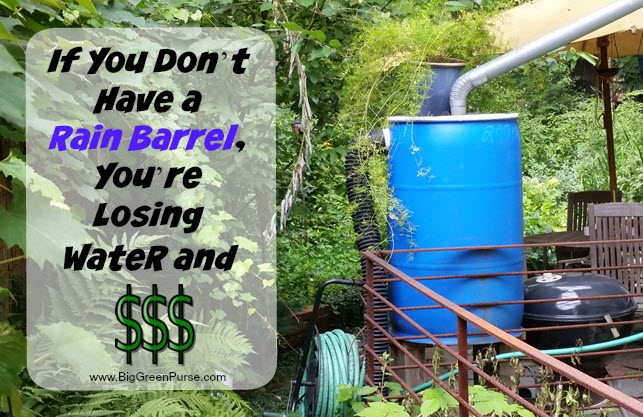 Rain barrels have been popping up all over my neighborhood lately. I live in the Maryland suburbs of Washington, D.C., and water is expensive here.
It can also be scarce in the summer, especially in the hot months of July and August, when flowers are in full bloom and trees and bushes are supposed to be growing.
None of that happens if the plants don't get enough water. In fact, I've had a lot of vegetables, azaleas, hydrangeas and even hundred-year-old oak trees die for lack of moisture.
Why Rain Barrels?
We've turned to rain barrels for three reasons:
1) They're a free way to collect water.
2) They reduce our water bill.
3) They reduce run-off and help manage storm drain and sewer overflow.
How Does a Rain Barrel Work?
→ A rain barrel is a big barrel, usually a 55 gallon drum made from heavy duty plastic or wood, that collects and stores rainwater from a roof.
→ The barrel is attached to a gutter that drains water off a roof. So, rather than all the water draining down into the gutter then out into your yard or the street, it drains into a barrel you can use whenever you need water.
→ A lid keeps mosquitoes and debris out.
→ A hose connects to the bottom of the barrel to make it easy to drain the water out.
You can install a rain barrel at each corner of your house, a garage, a shed, a barn, or any other structure with a roof. This one my neighbor installed blends completely into his garden.
How Much Will a Rain Barrel Save You?
The U.S. EPA says rain barrels can save most homeowners about 1,300 gallons of water during the peak summer months.
Lawn and garden watering make up nearly 40% of total household water use during the summer, so using a rain barrel to get water for free is pretty much a no-brainer.
Plus, capturing rain water from your gutters rather than letting it flow aimlessly onto your property or into storm drains significantly reduces the impact of runoff into streams.
A rain barrel is an easy way to get clean, fresh water to use outdoors for free.
Where Can You Get a Rain Barrel?
Of course, we sell rain barrels in our very own Big Green Purse store on Amazon. Here are three we like:

Most hardware stores and stores with gardening departments sell rain barrels, including Ace, Lowe's, Home Depot and WalMart. You can also find them online if you search "where to buy rain barrels."
Gardener's Supply sells options that include a double barrel system with the couplings you need for your hoses. Plow & Hearth sells a beautiful terra cotta urn whose top serves as a decorative planter to hold flowers.
Rain barrels can cost over $100, and upwards of $200 or more. You'll eventually save that money on your water bill. But you can also make your own water barrel. Care2 shows you how here.