Holiday candles made from soy or beeswax are quickly becoming the candle of choice for many people who want more natural candles that burn cleaner, too. Here are some that we've found for you.
HOLIDAY CANDLES MADE FROM SOY
After years of burning paraffin-based candles that left nasty soot residue on her walls and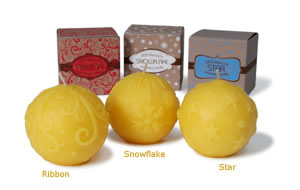 pictures, Big Green Purse reader Laureen of Basking Ridge, New Jersey stumbled upon soy candles in a little shop on Long Island. She's also found soy candles in Hallmark shops in her local mall. What does she like about them?
• They're clean. Conventional candles come from petroleum, which is why they create soot when they burn. Soy candles are made from just what they sound like: soybeans. You can burn them without worrying about generating carbon emissions or having to clean up grime afterwards.
• They're cool. Because they're basically beans, not oil, soy candles give you the flame without the same heat that paraffin candles emit.
• They last. Soy candles burn 30-50% longer than petroleum-based candles. That's a nice feature if you're having a dinner party, evening picnic, or just don't want to have to keep buying candles so often.
• They set a good example. Because they burn so evenly, soy candles leave very little (if any) wasted wax on the sides of the jar.
Where can you get them?
In your neighborhood:
• Hallmark, Home Depot – Ask for them at Hallmark and Home Depot. Home Depot may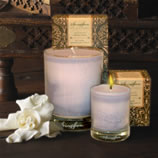 be a long shot, but given their Eco Options program, they may be receptive to ordering "green" products they're not yet carrying on their store shelves.
• Boutiques – Specialty shops that carry pottery, jewelry, home accessories and other trendy items may be an unexpected source of soy candles as well
• Whole Foods, Wild Oats – other Natural Foods Stores
On the Internet: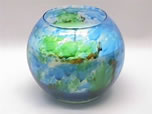 • Dripping in Color – Among their offerings is an Earth Soy Candle
• Anna Sova – Offering 100% soy candles in fragrances ranging from vanilla and sandalwood, to lavender, cedar and lime. Prices start at $12.50 for a 14 oz. candle.
HOLIDAY CANDLES MADE FROM BEESWAX
Candles made from beeswax emit a sweet, subtle honey-like fragrance, burn soot-free, and don't drip. You can buy them in traditional taper style, or molded into a variety of beautiful shapes.
Big Dipper Wax Works – Among the many choices are 3″ beeswax ornaments in the shape of a Star, Snowflake or Ribbon that each will burn for over 40 hours; elegant tapers whose wicks are 100% cotton and contain no lead or metal, and larger "pedestals" in a variety of colors.
Beeswax Candle Company – Beautiful holiday candles shaped into holly spirals, pinecones, trees, pillars and columns. Plus beautiful accessories, including candle holders and tapers.
Candlebee Farm – Additive-free and solar powered processes bring you dripless tapers, plain pillars and votive styles; you can also choose solid poured or rolled honeycomb candles.
Beeswax Company Natural candles molded into creative shapes, like beehives, balls and cubes, votives and tealights.