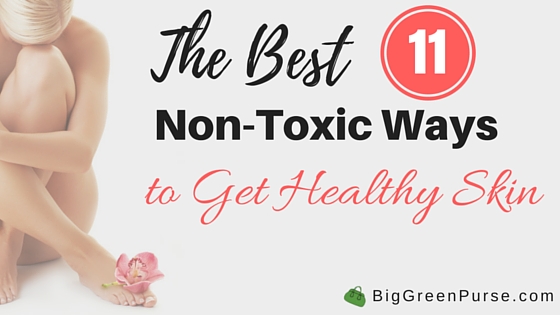 Getting and keeping healthy skin involves a lot more than washing your face. It's about protecting your skin from the sun, dryness, dirt, cuts and scratches, rashes, and maybe even the wrong foods.
Though summertime puts a focus on the need for the right sunscreen, you really should focus on healthy skin all year long. Here are the best non-toxic ways to get healthy skin, some of which may surprise you.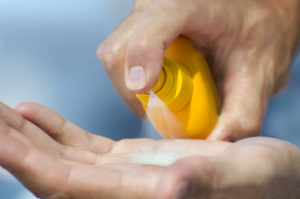 1) Wear sunscreen in the winter as well as summer. Most of us consider sunscreen a summertime skin treatment. Not so. Our skin can suffer sun damage every month of the year, which is why doctors and skin care specialists recommend applying sunscreen every day.
Don't miss this helpful post! ⇓
2) Give yourself a skin self-exam. These American Academy of Dermatology (AAD) videos show people how to spot skin cancer and give themselves a skin self-exam. Most family care doctors could spot an obvious unusual skin growth, but if you or your immediate family have a history of skin cancer, get a regular check-up by a dermatologist who can tell the difference between a harmless mole and something more serious.
3) Moisturize acne-prone skin. It seems counter-intuitive to add moisture if you think your skin is already oily. But when acne-prone skin gets dry, it overproduces oil to compensate and that leads to even more acne. Ironically, acne treatments can often leave skin dry.  Use a "sandwiching" technique to apply an oil-free moisturizer before and after acne treatment. If you use a face mask, make it one that moisturizes, not dries skin out.
4) Turn down the shower temp and keep it short. A hot shower might feel great at the time, but the hotter the water, the drier your skin may feel afterwards. Keep temps warm rather than hot, and keep your shower short. Get in, soap up, get out. You'll save energy and water, too.
5) Moisturize when you're still wet. Don't completely dry your body when you get out of the shower or a bath. Adding lotion to skin when it's still damp rather than completely dry amps up the moisture quotient. Give moisturizer at least 2 minutes to work its magic before adding anything on top of it.
6) Replace tanning salons with non toxic but fake tanning solutions. Like the sun, tanning beds can cause skin cancer and wrinkled skin, warns AAD. If you want the tan look, try a spray-on tanning product or use bronzer and blush. With winter coming (or having arrived in many parts of the country), take advantage of lowered expectations for a "sun glow" and break free of the notion that "tan is glam" altogether. Look for brands free of parabens, oxybenzone, diaolidinyl urea and DMDM hydrantoin, which can release formaldehyde as they break down.
7) Drink more water. "Drinking water is one of the best things you can do to keep your skin in shape," reports WebMD. "It keeps your skin moist – and that makes fine lines and wrinkles less noticeable." The group says that water helps cells absorb nutrients and shed toxins, too. The common advice is to drink 8 glasses of water a day, but you can get by with less if your diet includes fruits, vegetables, juices and tea.
8) Eat more beets. Antioxidants are the compounds found in colorful fruits and vegetables that appear to play an important role in slowing and preventing the kind of "free-radical" damage that can cause cancer. Skip the chips and eat berries, tomatoes, apricots, beets, squash, spinach, sweet potatoes and other colorful foods instead.
9) Skimp on perfume, scented lotions and products made with toxic ingredients. Fragrances in perfume and skin-care products can cause the collagen in the skin to break down, leading to allergic reactions, acne and skin rash. Plus, commercial lotions and moisturizers may contain ingredients like formaldehyde or nickel sulfate, power powerful chemical preservatives. Some botanical ingredients may cause problems as well, especially Tolu balsam, which can trigger additional sensitivities to cinnamon oil, lemon oil, orange peel or oil of cloves. Find the simplest, cleanest moisturizer that works for you, and stick with it. I personally use organic coconut oil for almost all my skin needs. It is light, effective and harmless.
10) Stay away from poison ivy, poison oak and poison sumac. The key word here is "poison." These plants can cause severe and painful skin rashes that, at their worst, may need to be treated with steroids. Most people think poison ivy and its cousins are only a threat in summer, but that's not so. My daughter got a terrible poison ivy rash one winter when she brushed up against a tree that was covered with poison ivy vines. If you do encounter poison ivy, scrub your skin immediately, including under your fingernails and avoid using your hands to spread the rash to other parts of your body after you scratch or itch. Wash clothes, gloves, shoelaces and tools that came in touch with poison ivy, as the urushiol compound that is so toxic in the plant can remain potent for years.
11) Bandage booboos. If you get scraped up, don't wait to clean out the dirt. Wash the wound well with warm water and soap, and bandage if warranted. There's no need to use something like hydrogen peroxide or iodine for most minor injuries. On the other hand, ignoring them could lead to a serious infection and potentially scars. If you can't use an adhesive strip or butterfly tape to hold a minor cut together, see your doctor as soon as possible. The sooner you get stitches, the faster the wound will heal, and you'll increase the likelihood that any scarring will be less noticeable.