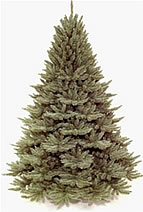 Looking for a green Christmas tree – one that's green in terms of its environmental impact as well as appearance? I'm with you. Like other plant products, Christmas trees may be farmed under very intense conditions that require heavy doses of pesticides and fertilizers to guarantee they grow to a certain size and perfect shape. Happily, more and more tree farmers are choosing sustainable growing methods to raise their trees from sapling to
Find a Green Christmas Tree
Buy a living tree. You can do this with great success. The major disadvantage is that you can only keep the tree in the house for about a week before it needs to get in the ground. Other tips:

Dig the hole for the root ball now, before the ground freezes.

Buy a tree that is big enough to enjoy for Christmas, but light enough that you can easily move from the house to your yard.

Keep the root ball watered until you get the tree planted, then continue to water as you would any newly planted tree.

Try the Internet: Search "Organic Christmas Trees in …" and fill in the name of your state or county.
Search Green Promise. This website lists organic Christmas tree growers in several states. 

http://www.greenpromise.com/resources/organic-christmas-trees.php
Buy local. Even if you can't find a pesticide-free grower, you may find a local one. Most Christmas trees come from Oregon or North Carolina; if you can get a tree that's grown closer to home, you'll save energy, help reduce climate change, and minimize the extra pesticides that are sometimes applied before trees are shipped long distances.
Don't Forget to Recycle
Recycle your Christmas tree when the season's done. You'll find our best suggestions for recycling Christmas trees here.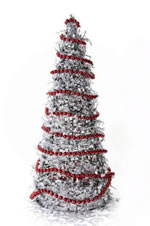 What About Artificial Trees?
When Swedish researchers compared a locally grown, live cut tree to a full-size plastic tree, they found that the real tree used about a fifth of the energy (assuming that the plastic tree would be used for ten years).
Most artificial trees are made from environmentally toxic PVC.
Christmas trees can grow very well on soils that are inhospitable to other crops.
A single acre of Christmas trees produces enough oxygen to support 18 people, while absorbing carbon dioxide.
If you do buy an artificial tree, plan to reuse it for many years. If you have an artificial tree you want to replace, donate it to a community center, nonprofit organization or other charity that can continue to use it.