"Fair Trade" is an initiative to help ensure that farmers and laborers receive a fair wage for their work, work in humane conditions, and don't exploit children. You can identify products that are made according to fair trade practices by looking for one of the reputable labels that are awarded to companies that meet the standards set out by either FairTrade USA or by Fair Trade International.
What is Fair Trade Certification?
The Fair Trade Certified label guarantees:
Fair price: Family farmers receive fair prices for their harvest, and premiums specifically earmarked for community development projects; even higher premiums are given for certified organic products. Farmer organizations are also eligible for pre-harvest credit.
Environmental sustainability: Harmful agrochemicals and GMOs are strictly prohibited in favor of environmentally sustainable farming methods that protect farmers' health and preserve valuable ecosystems for future generations. Fair Trade farmers protect the land and wildlife habitat by intercropping plant species to improve soil fertility and protect against erosion. Stringent environmental management programs, including water conservation, proper waste disposal and prohibitions on planting in protected areas further encourage environmental stewardship.
Fair labor conditions: Workers on Fair Trade farms enjoy freedom of association, safe working conditions and fair wages. Forced child labor is strictly prohibited.
Direct trade: Importers purchase from Fair Trade producer groups as directly as possible, eliminating unnecessary middlemen and empowering farmers to develop the business capacity needed to compete in the global marketplace.
Democratic and transparent organizations: Fair Trade farmers and farm workers decide how to invest  revenues, and proof of a democratic process is required.
Community development: Fair Trade farmers and workers invest the premiums they earn in social and business development projects like scholarship programs, healthcare services and quality improvement training.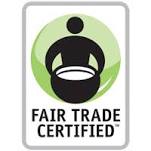 What is Fair Trade USA?
• A non-profit third-party certifier of Fair Trade products in the United States
• Implements a thorough audit to verify compliance with strict international standards set by Fair Trade  International (FLO)
• The audit tracks the global supply chain from the farmer to the importer, to the product manufacturer, and finally to the retailer and end consumer
• Detailed reports from the importer provide transparency and ensure that the products they are selling comply with the Fair Trade regulation
Though Fair Trade USA certified products are often organic, there's no guarantee unless you see the USDA organic label also on the product packaging.

Fair Trade International
• A nonprofit association based in Germany founded in 1997 to unite Fair Trade labeling initiatives under one umbrella and to establish worldwide standards and certification
• Fair Trade standards are developed by the FLO Standards Committee, which is comprised of stakeholders from FLO's member and producer organizations, traders and outside experts
• Environmental sustainability is one of their key principles
• Fair Trade products may also be organic, however, Fair Trade certification does not guarantee that a product was organically grown
• Always look for the USDA Organic symbol to ensure organic compliance
What Fair Trade Products Can You Buy?
You'll find a lot in the market to choose from. Here's what we've tried: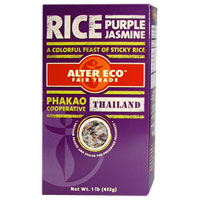 Purple Rice? Orange Chocolate? Vanilla Sugar?