There's not much good to be said about throwaway plastic bottles of water. Truth be told, when you buy bottled water, you're buying plastic packaging and convenience, not necessarily healthier water that's safer to drink than tap water. In fact:
* 25-40% of bottled water actually comes from municipal drinking water sources. Why not fill up from the tap yourself?
* Only about 12% of plastic water bottles are being recycled, which means 40 million bottles a day are going to the trash or ending up as litter.
* Bottles made from #7 polycarbonate plastic (like old Nalgene bottles and some water bottles) may leach Bisphenol-A into your drink. Among other health ailments, this chemical has been linked to diabetes, infertility, and hormone disruption.
Why Shift to a Reuseable Water Bottle?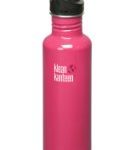 * Save money – You can save $5 – $10 a week buying bottled water – more, if you're buying bottled water for your entire family
* Be healthy – Tap water is usually safer to drink than bottled water. For extra security, use the money you save buying bottled water and get a water filter. Options range from a filter that attaches to your tap, to a pitcher with a filter attached, to a whole-house water filtering system. Many reusable water bottles come with filters, as well. Here's a link to some of the most affordable choices.
* Enjoy convenience – At home, fill up from the tap and keep your own bottled water easily on hand in the fridge. Out and about, fill up your water bottle at restaurants, cafes, and water fountains.
* Avoid trash – A reusable water bottle eliminates plastic bottle trash, day after day, week after week, and on and on.
* Feel good – Using a reusable water bill is a simple step you can take to do your part to protect the planet.
Want to Shift to a Reusable Water Bottle?
You can find reusable water bottle options in our store. NOTE: We earn a tiny commission on our store purchases; all our recommendations are based on our determination that the items suggested offer a cleaner, greener, safer alternative to what you may currently be using. Thanks.
Want more information on bottled water?
Bottled Water Not as Safe as Tap Water, says GAO