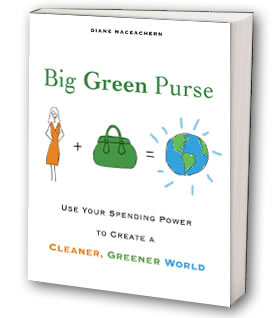 Treehugger.com – "This is a marvelous reference book to keep by your shopping list…  All of the sections are laden with attention-grabbing facts about industry and the environment. It is also a first-rate guide for making homemade cleaning products, tips for your organic garden and ways to reduce your energy consumption at home… This book is a must have for the American woman."
Laurie David, producer, "An Inconvenient Truth" – "If you take just a few suggestions from Big Green Purse, you will be on your way to being part of the solution instead of part of the problem."Glamour magazine, "Every Woman's Guide to Going Green" – Calls Big Green Purse founder Diane MacEachern an "eco expert" and "tops" in our field.InStyle Weddings, "Eco-Friendly Honeymoons" guide – Says you can "stay chic" and "look great when you go green" with tips from the Big Green Purse green living guide.
ChicagoTribune.com, "The thing I love most about "Big Green Purse," Diane MacEachern's compendium of eco-wisdom-you-can-use, is that, well, it's like having a big green mama right there on your front porch, rocking the day away, just waiting to spout out answers to any question you can conjure. Want to know which coffee brands are best to save the songbirds of the Costa Rican rain forest? "Big Green Purse" spells it out. Ever thought of recycling your car? "Big Green Purse" tells you which parts might be ripe for resurrection, and then counts out 10 ways to use less gas that'll make you slap yourself upside the head, asking, "Why didn't I think of that before?"
Mary Hunt, In Women We Trust – "The most important book your book club will read this year…women like listening to Diane, she knows how women work…Big Green Purse brilliantly blends the two (the scientific and the pragmatic), providing the HOW TO's that you don't see anywhere else with stories that burn a visual into your brain…Like many "tip books" this one is packed, but it comes with context and real life experiences – that's the motivating difference for me… Big Green Purse is a "must read, save, refer to" book that will get us through the next critical decision making years."

Body + Soul – "If money talks, Diane MacEachern is using hers to say "Save the Planet." … In Big Green Purse: Use Your Spending Power to Create a Cleaner, Greener World (Avery), MacEachern tells us our money is a message, and we need to make sure industry hears it…MacEachern has shopped green for 20 years and has lots of tips for what's worked for her and what hasn't…In Big Green Purse, MacEachern encourages readers to take the power of the purse to an even higher level."
More magazine – This magazine , which offers "smart talk for smart women," includes the Big Green Purse website among a handful that "sure have our attention." Reporter Patti Greco says she's "addicted" to www.biggreenpurse.combecause "MacEachern exposes bogus green products in her "Thumbs Down" column." Those Thumbs Down pointers feature prominently in Big Green Purse (the book), too!

Plenty magazine – "Best-selling environment writer Diane MacEachern shows women — who spend 85 cents of every dollar in the marketplace — how to start wielding their purchasing power for the good of the planet, and buying green as if their lives depended on it. Worth toting around in your bag or glove compartment…Big Green Purse walks buyers through the difficult choices in everything from food to lawn care to clothing."
Salon.com – "Big Green Purse: Use your spending power to create a cleaner, greener world"  by Diane MacEachern is a fat compendium of tips on how to buy everything from furniture to cosmetics that is more environmentally-friendly, without getting bamboozled by greenwashing."
Yvonne DeVita, www.lipsticking.com – Diane MacEachern's new book, Big Green Purse: Use Your Spending Power To Create  Cleaner, Greener, World is out! Out…as in get your copy today! As in don't pass Go! or Collect your $200 until you read this book, and visit her website, and read her blog. Puh-lease!…MacEachern doesn't mince her words and she isn't soft-pedaling this issue. She's a warrior princess, a fighter, a Queen, and she is not taking prisoners. She's out to help save the environment – but she can't do it alone. We're her army. Buy her book… get her widget, and join the fight."
Andrea Learned, Learned on Women – "Diane MacEachern's moments-from-being-released book, Big Green Purse, should be one you review carefully. This is what a lot of women in the U.S. will be reading in the coming months to help guide them toward more environmentally conscious purchase decisions. Not just another outline of the problem and call-to-(general) action, Big Green Purse is an everyday consumer's resource – almost like a phone book's worth of information. It is a well -organized and easy to read guide that offers do-able suggestions for buying everything from beauty products to cars, cleaning products and food.
"Big Green Purse is not only a wealth of information for consumers who want to tweak away at their not-so-sustainable lifestyles, it is a secret trove of new thinking for brands that want to live up to what will likely become the expected standards of sustainable consuming (to whatever degree that is possible)."
Tulsa World: "An Eco-Friendly Initiative Is Aimed At Women": "First, she wants to "dispel the notion that women don't have an impact," MacEachern said. "That old expression, 'money talks,' well, who do you think is listening?" she asked. That's why Big Green Purse is encouraging 1 million women to shift at least $1,000 of money they already spend for an initial $1 billion Big Green Purse impact, according to the initiative's official Web site, BigGreenPurse.com. The site offers lifestyle tips and shopping suggestions, from food and cosmetics to appliances, furniture and cars. Her green living guide, which comes out Feb. 28 on Amazon.com, serves up even more suggestions in greater detail.
Melissa, Greeniac World.blogspot.com  – "Big Green Purse is not just a list of things you should buy or avoid, rather MacEachern explains in detail the current marketplace, the issues and what the impact of buying these green purchase will make on the environment." 
eReader.com – "MacEachern offers concrete and immediate ways that women can take action and make a difference. Empowering and enlightening, Big Green Purse will become the "green shopping bible" for women everywhere who are asking, "What can I do?"
Be A Bookworm – "Big Green Purse is one of the most comprehensive, best organized green living guides I've ever come across – and I've come across quite a few – on personal environmentalism. Ms. MacEachern clearly and carefully sets forth how we can reduce consumption, make our voices heard, and wield real power with those purchases that we choose to make. She covers everything from beauty products to lawn care to food and advocates borrowing, renting, buying used, cutting back, or making do instead of simply buying new. In each section, she debunks myths, explains relative impacts, and gives a variety of tips from light to dark green."
Maria Energia – "Use it as a manual rather than a book to read from cover to cover…The chapters are self-contained and allow you to quickly research the greenness of your next car purchase or grocery trip."
Treading Softly – "This is an excellent book for anyone who's looking to "green" up their shopping habits, especially those who don't know where to start…I definitely recommend this book."
Being SimpleSprouts – "The book is filled with a wealth of information and resources.,,an easy and practical guide."
Jean's Soap Box – "Must Read Book…If you don't know of it, google it. Everyone in this world should have it with them every time they shop. I am buying extra copies on Amazon (used of course) and sharing them with friends and relatives."
Lively Librarian – "Must Read Book…the author has excellent suggestions on how consumers can change their lives and change the world.