Whole Foods Markets from New Jersey to Virginia began giving away one free reusable bag per customer yesterday to encourage shoppers to "BYOB" – Bring Your Own Bag.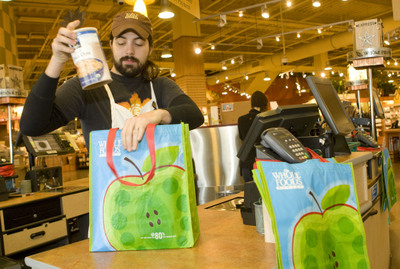 The bag had already caught my eye, not only because it's so cheerful and colorful, but also because it's made from 80% post-consumer waste.  Plus, it's got a washable surface and actually seems more ample inside than the standard paper grocery bag.
I asked Lillian Buie, marketing manager for the Whole Foods where I shop in Silver Spring, MD, what the give-away meant for the store's use of paper and plastic bags.
"As of Earth Day 2008 (April 22, 2008), we won't be bagging food in plastic anymore," she said.  Paper bags (made from 100% recycled paper, and totally recyclable) will remain an option for customers who don't bring their own bags, and the store will still provide plastic for bagging produce, meats and fish. But plastic grocery bags will be gone.
Even if you miss the free giveaway, these bags are worth buying. At only 99 cents per bag, you can't go wrong (I've already bought three). And every time you use them, you'll get a 5 cents/per bag refund on your grocery bill. The bags will pay for themselves in no time.

Thumbs up, Whole Foods.
MEMORY TIP: BTW, if you have trouble remembering to take reusable bags to the grocery store, try this: after you unpack your groceries, put all the bags inside a main bag, and put the main bag with your car keys. The next time you go to your car, take the bags and toss them in the back seat or the trunk. The bags won't clutter a kitchen cupboard or closet, and you'll always have reusable bags when you shop.