After all the hype generated at the North American International Auto
Show and the shows that have started touring the country, it can be hard to get the straight scoop on the best "green" car to buy.
I asked Joanne Helperin, Senior Features Editor at the expert
car site Edmunds.com, if she had any advice for women who value
fuel-efficiency in their vehicles. Here's her reply:
"One of the best ways to impact the environment positively is to buy a
fuel-efficient car. Fortunately, cars are offering greater fuel
efficiency than ever before, and the outlook for the future is even more
promising.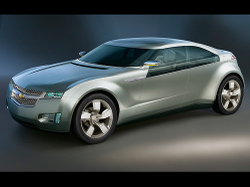 "In 2008, expect to see more hybrids from a wider variety of carmakers, as well as a smattering of new "clean diesels" from Mercedes, BMW and Volkswagen. By the end of 2010, the plug-in hybrid Chevrolet Volt (left) is expected to shake up the automotive industry."
Joanne says you can find an abundance of helpful advice on the Edmunds.com's Green Car Guide, Women and Family Car Guide and The Driving Woman blog. Meanwhile, here's a short course on finding the fuel-efficient car that's right for you, courtesy of www.edmunds.com.
(c) Edmunds Inc. All rights reserved. Reprinted with permission from
www.edmunds.com.