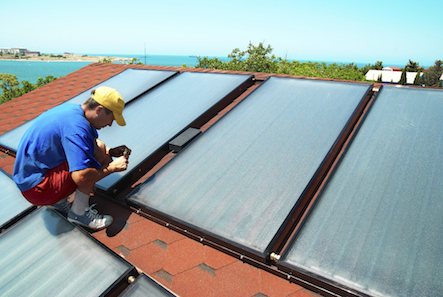 Have you ever had to explain solar energy to your kids? Maybe they've been following the news about climate change and asked what they can do to make a difference. Maybe they've heard about oil spills and want to use a fuel that doesn't do so much damage. Maybe they've seen solar panels on someone's house and wondered whether solar would work for their house, too.
You may not have known the answers to your kids' questions, but we do! In fact, we've teamed up with residential solar providers Pure Energies to offer these tips on talking to your family about getting clean, safe energy from the sun. Want to test your solar knowledge? Take PURE's solar quiz. The first 1,000 people who answer this quiz about solar will receive a nifty solar flashlight (supplies limited) – perfect for use on Halloween or any night of the year.
How Does Solar Work? Three Simple Steps.
1) Solar panels are made of special silicon "cells." When the sun shines down on them, they convert the sunlight into DC (direct current) electricity. (Solar cells are also called photovoltaic cells, or PVs.)
2) A piece of equipment called an inverter turns the DC into AC (alternating current). AC is the kind of electricity your home uses to power your lights, electronics and appliances.
3) You turn on your computer or lights. You'll receive electricity from your solar cells pretty much the same way you'd get it from your power company: buy plugging into an electrical socket in your home or office.
A solar or PV system needs good access to the sun's rays to be effective, but they can function in almost any air temperature. Even if it snows, the sun usually melts the snow on the system to keep it working.
The meter is important, too. Right now, you probably have a one-way power meter that tracks how much electricity comes into your house from your utility company. Once solar panels are installed, a bi-directional, or two-way, meter will keep track of all the power your solar panels produce. You can still get power from your utility company if you need to. But you can also send any excess power your solar system generates that you don't use back to your utility, where you'll receive a credit on your bill.
That's pretty much all there is to it. The sun shines, solar panels convert that sunshine to electricity, and you get to turn on the lights or your computer. Pretty straightforward, right?
As for benefits, well, the obvious one is that solar energy itself is free. But there are many other surprising benefits solar offers, which you can learn about by taking our quiz. And don't forget. Be one of the first to take the quiz, and you'll be rewarded with this cool solar-power flashlight.
NOTE: Sponsored posts, like this one supported by Pure Energies, allow us to bring you expert information at no cost to you. As always, our editorial opinion remains independent and unbiased.