Our first-ever 10-Day Simple Green Holiday Challenge has been a huge hit! People have absolutely loved it – the great information, the useful money-saving tips, the timesavers, all the eco-friendly holiday discounts. We loved putting it together for you as much as you loved getting it – unless you haven't signed up yet! 🙁
Fortunately, it's not too late. Even though Christmas is fast approaching, as long as you sign up by December 24, you'll still get:
10 guides that cover everything from food to decorating to green cleaning
specific money-saving green living tips
time-saving hacks you can use all year long
recommendations for greener products and services you probably don't know about
Plus, when you sign up, you'll automatically get entered into the premium gift giveaways that start Sunday, December 18. We'd love to enter your name into our drawings for some great gifts from the following companies:
Eco-Friendly Holiday Discounts and Giveaways Just For You
Sign up for the challenge and get the eco-friendly holiday discounts the following companies are offering. You'll also get entered into giveaways for the following prizes: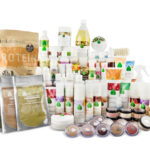 ♦ $50 gift certificate from Miessence Organics, plus free FAST superfood to support a healthy diet
♦Fabulous Organic Teas Bundle from EarthMamaAngelBaby Organics, which includes 8 boxes of soothing, delicious, organic and non-GMO teas
♦ Wild Planet Seafood Deluxe Sampler Pack, containing wild canned tuna, wild pink shrimp, salmon
♦ AspenClean Whole House Non-toxic Cleaning Kit
♦ Garden in a Can Gift Set and Grown Your Own Mushroom Farm from Back to the Roots
♦ Urban Market Bags – Set of Three in Clip-On Stuff Sack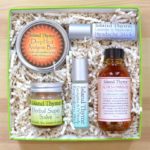 ♦ Island Thyme Botanical Bodycare Gift Basket
♦ Baby Hero Organic Baby/Toddler Clothes


♦ and more!
If for some totally crazy reason you don't want all the great tips, the daily guides, and a big bunch of discounts FOR FREE…
You can still get entered into the giveaway drawings. There's only one giveaway per company so signing up for the Challenge as well as the giveaways is the SMARTEST THING TO DO.
Sign Up Now! 
BUT if you only want to get entered into the giveaway drawings, we'd still like to give you a chance. All you have to do is:
Leave a comment below this blogpost

telling us how you have made your holidays simpler and greener
AND/OR…leave a similar comment on our Facebook page.

Heck, just wishing us Happy Holidays is enough!
NOTE: We love people who are just as chatty as we are, so if you leave comments in both places, you'll get two entries in each giveaway, rather than just one.
We hope you'll sign up to get the great info we've offered in the Challenge. And please leave us some comments so you can get entered into the giveaways.
Happy holidays, everyone!