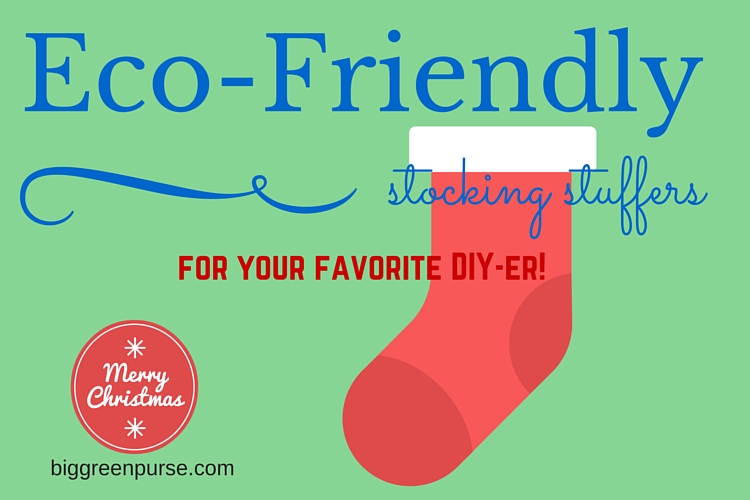 Looking for a gift for your favorite DIY-er? Here are 7 eco-friendly stocking stuffers that any handy person will appreciate.
Glide Lubricant & Protectant – Throw out the WD-40! Glide Lubricant is the green alternative for oiling a squeaky door, bicycle chain, or sticky zipper. In fact, take a look here at all its potential household uses.  Manufacturers claim it can remove lipstick stains and erase crayon marks from toys, flooring, furniture, walls and television screens – plus unstick Legos!! Glibe Lube is non-VOC, has never been tested on animals, and is even NSF/H1 safe for incidental contact with food (in case you need to tune up a food processor, blender, toaster, juicer…you get the idea). Order it from the Glide store here.
EO Hand Sanitizing Gel – DIY-ers may like to make a mess, but they also like to keep it clean. This gel hand sanitizer both sanitizes and moisturizes, thanks to its jojoba oil and vegetable glycerin. But it's unscented, so is perfect for the guy or gal who doesn't want to smell like perfume.  It contains no antibacterials (like triclosan), so won't add to the antibiotic resistance problem the way other hand sanitizers do.
LED Headlamp – If your DIY-er finds his or her head under a car, buried in a cupboard, or otherwise peering into a dark or hard-to-see space, this Streamlight Septor LED Headlamp could be the perfect gift. The 7 ultra bright white LEDs pack a lot of power; the settings offer three levels of lighting and up to 120 hours of continuous run time. The lamp does require 3 AAA batteries, so make sure they're rechargeable.
Snacks – Don't let your DIY-er run out of energy. Look for snacks with a minimum amount of sugar, no transfats, no hydrogenated oils, and non-GMO. My faves are Kind bars, and they come in a variety of combos, including nuts & spices, and dark chocolate with cherries and cashews. Yum!
Water Bottle With Filter – A DIY-er never knows where he/she might end up. Having a water bottle with its own filter is a good idea. I like the Ecoflo Stainless Steel Water Filter Bottle. It's BPA free, has no phthalates, and the filter removes up to 99.99% of pollutants.
Hemp T-Shirt – Hemp is one of the most eco-friendly fabrics out there. It requires little in the way of water and pesticides to grow, and once it's turned into fabric it is extremely durable and long-lasting. Guys can try this t-shirt that is 55% hemp, 45% organic cotton, and available in short or long sleeves. Here's one for women.
Non-Toxic Hand Soap – Most DIY-ers spend a LOT of time washing their hands. Using a non-toxic, moisturizing soap is the key to avoiding dried out and chapped skin. This handmade all natural Castile Olive soap from Natural Handcrafted Soap, LLC contains cocoa butter as well as organic coconut. It's actually mild enough to use on your face, too.
Do you have any favorite eco-friendly stocking stuffers? Please share!