Here is the easiest way in the world to plant trees: use Ecosia instead of Google, Bing or Yahoo! when you search the Internet.
WHAT IS IT?
Ecosia is a new search engine that donates its ad revenue to plant trees. It's a simple as that.
WHY BOTHER?
The world cannot exist without trees.
They help clean the air and protect our drinking water supplies. They absorb carbon dioxide so can help reverse the onslaught of climate change. They provide places for birds, animals, and insects to live and reproduce. Plus, they're just darn pretty.
Here's my first-hand account of deforestation in the Amazonian rainforest. But I bet you've seen lots of trees getting cut down where you live, too.
HOW DO YOU USE IT?
Install it on any browser you use, including Chrome, Firefox, Internet Explorer, Safari, and Opera.
It takes literally seconds to install, costs nothing, and is just about the easiest tech upgrade/update/add on I have ever done. Ever.
And once it's installed, you don't even notice it. You just use it.
WHAT DOES IT COST?
Nothing.
Here's how they explain it on their website:
Ecosia, like any other search engine, earns money from advertisements displayed next to the search results.
Ecosia then donates at least 80% of its surplus income to a tree-planting program.
The funds generated by Ecosia help to plant several trees every minute.
→ Ecosia earns about 0.5 cents per search through its ads.
→ It costs 28 cents (EUR) to plant one tree in Burkina Faso, where Ecosia is currently working with local groups to get trees planted.
HOW MANY TREES GET PLANTED?
When you do a search with Ecosia, they display a personalized tree counter, which shows you how many trees you have already helped plant. (Mine showed 21 when I started this post).
Rather than showing you how many trees you have planted all on your own, the counter shows you how many times you have contributed to the planting of a new tree based on the current cost of each tree.
In other words, joining Ecosia makes you part of a
community of people all over the world who will be helping to plant trees!
HOW MANY TREES SO FAR?
* Ecosia currently plants one new tree every 14 seconds.
* As of today, they've already planted 2,445,942 trees.
* Between December 2009 and August 2013, Ecosia supported a rainforest project run by World Wildlife Fund.
* From August 2013 until December 2014, Ecosia supported the Nature Conservancy's Plant a Billion Trees program.
* In January 2015, Ecosia began working with the Belgian-based We Forest and Entrepreneurs Without Borders organizations to plant trees in Burkina Faso, in west Africa.
CHECK IT OUT!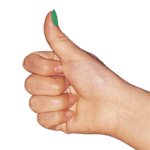 I hope you'll go to Ecosia and check it out. It's easy peasy and makes a big difference!
Thumbs up, Ecosia!
And if you want to plant your own tree at home anyway,
here's how
!