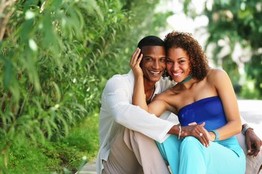 Earth Day is the last day you want to use as an excuse to add to the world's population. Instead, practice "green" sex – "safe" sex with an eco-twist.
*Toss used condoms in the trash, not the toilet. The jury's out on whether latex condoms are biodegradable. Regardless, they're a better option than polyurethane. "French letters" made from lambskin will biodegrade, but they won't prevent sexually-transmitted diseases (STDs), so only use them with a partner you completely trust.

*Choose intimate personal care products that are phthalate- and paraben-free. Before you reach for perfume, lotion, or jelly, read the label. Look for plant-based products over synthetics.
* Play around in organic cotton lingerie. Need I say more?
*Illuminate your loved one with soy-based candles rather than low-level – but polluting – incandescent lights. Better yet, turn off the lights altogether!
* Don't douche. Douching will not prevent pregnancy or protect you from STDs. It will simply wash away healthy vaginal bacteria, a practice that could cause infections in the reproductive organs.
And if you really want to keep your genes in your jeans, spend the day planting your spring garden, cleaning out the nearest stream, or escorting a group of exuberant school kids on a nature walk. You'll be too tired in the evening to do anything other than eat a yummy (organic, vegetarian) dinner before nodding off to sleep.