Hi! I'm Diane MacEachern, award-winning entrepreneur and best-selling author of Big Green Purse: Use Your Spending Power to Create a Cleaner, Greener World. I'm passionate about empowering people just like you to use their consumer clout to protect the environment. Plus, my "Go Green. Save Money. Guaranteed!" message drives home the point that living green is so affordable, there's no reason NOT to do it! In addition to my books and the Big Green Purse website and free e-newsletter, I give speeches and offer workshops to many different organizations, companies and institutions. I also work with a lot of terrific non-profit groups, businesses and government agencies on projects and programs that improve our health and protect the environment.
Where Did My Story Start?  I was born in Detroit, Michigan and grew up in a small suburb nearby. My parents never would have called themselves "environmentalists," but they certainly raised me and my four brothers and sisters not to waste and to turn off the lights whenever we left a room! One hot summer Sunday afternoon, my parents packed all of us kids up in the car and drove to the nearest lake for a picnic. You can imagine how excited we were – there were five kids in the back seat all talking about who was going to jump in the water first and who could swim the backstroke. We drove for about an hour and finally got to the parking lot. It was eerily empty. Then we noticed the signs. The beach was closed because the lake was so polluted, swimming in the water was just too dangerous. We didn't believe it, so we raced toward the water anyway. Then we stopped short. The shore was buzzing with flies, flies that were feasting on dozens, maybe hundreds of dead fish that had washed in from the lake. That was probably the first time I ever really understood anything about pollution and the impact it can have on the world we love.
Fire Retardants in My Milk  In 1974, another environmental scandal rocked our world. We were informed that the milk we'd been drinking had come from cows that had accidentally been fed fire retardant instead of cow feed. I don't remember how much milk we'd all drunk before the mistake was discovered. I do remember watching the television news reports of the incident. Over 500 contaminated Michigan farms were quarantined. Approximately 30,000 cattle, 4,500 pigs and hogs, 1,500 sheep, and 1.5 million chickens were destroyed, along with over 800 tons of animal feed, 18,000 pounds of cheese, 2,500 pounds of butter, 5 million eggs, and 34,000 pounds of dried milk products. What I also came to realize was that it was far easier to get rid of the tainted milk than it was to eliminate the fire retardant that had accumulated in my body as a result of drinking it. Fire retardant – also known as PBBs – causes cancer in lab animals and is thought to be an endocrine disruptor – a chemical that interferes with hormones.  I remember thinking then, even though I wouldn't have children for another 20 years, that perhaps my ability to have healthy babies had been compromised by drinking the most harmless thing in the world, a glass of milk.
Master of Science Degree, then Career Ultimately, one thing led to another, and I got a masters degree in natural resources management and the environment at the University of Michigan. Earth Day had happened, and we all knew that there was a lot more going on in the world than that lakes were polluted or that dangerous chemicals were threatening in the most innocent of places. I wanted to make a difference in whatever way I could. I moved to Washington, D.C. and started working with organizations that were committed to protecting wilderness and wildlife and reducing pollution and our exposure to toxic chemicals. Eventually, I started a communications company to try to have a bigger impact. I worked to help protect the coastal plain of the Arctic National Wildlife Refuge from oil drilling. I helped convince the Clinton Administration to protect over 2 million acres of wilderness in Utah. I worked with the U.S. Environmental Protection Agency to launch one of the nation's very first campaigns to educate the public about climate change.
Became a Mom, Launched Big Green Purse I also got married and had two wonderful children. I founded Big Green Purse when I realized that the way we spend our money is one of the most important ways we can make a difference. Why? Because it's our first line of defense. We expose ourselves and our kids to what we buy, and to the consequences of what we buy. Buying less, and buying the safest products and services available, is within the reach of each and every one of us.
The way we spend our money has another huge impact. It sends a direct signal to corporations far and wide that we either approve or disapprove of the way they do business. You know, some corporations fight laws and regulations with the intensity of Hurricane Katrina. But they embrace what happens in the marketplace. They have to: consumer dollars are their lifeblood. And when we shift our spending to organic food or energy-efficient light bulbs or mass transit, we're setting an important dynamic in place: we're dangling a bright green carrot in front of companies that provide products and services and encouraging them to become more organic and energy-efficient, too.
But there's more. Going green is a great way to save money. I've saved thousands of dollars on energy, water, practicing the 3 Rs – reduce, reuse, recycle – and even by making a lot of my own "stuff." Going green has been as good for my bottom line as it has been for my health and well-being.
Today, through this website, our free e-newsletter, books, workshops, blog and media appearances, I share what I've learned with people far and wide. By ourselves, we can make a difference to ourselves and our families. But working together, we can change the world. That gets me fired up! What about you?
What's Your Story?
We all have an important story that has helped us become the concerned, caring people we are today. I hope you'll share your story with the Big Green Purse community, so we can learn from and be inspired by you.
Get In Touch
You can contact me at  Diane@biggreenpurse.com. I'd love to hear from you!
BOOKS AND PUBLICATIONS
I'm happy to say that my books have reached hundreds of thousands of people with their "you can change the world" messages: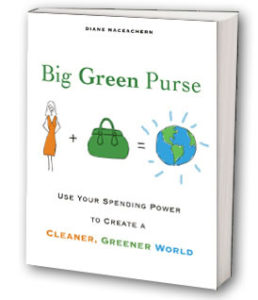 Big Green Purse: Use Your Spending Power to Create a Cleaner, Greener World, has been called "the big green bible" for its useful information, helpful links, and practical but inspiring guidance.  You can get your own copy here. 

 The best-selling Save Our Planet: 750 Everyday Ways You Can Help Clean Up the Earth has been featured on national television programs ranging from CNN Headline News to Live with Regis and Kathie Lee to The ABC Network Television Earth Day Special. The book has been reprinted in Italy and Japan.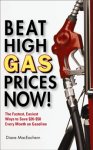 Beat High Gas Prices Now! The Fastest, Easiest Ways to Save $20-$50 Every Month on Gasoline received widespread media coverage, especially on national and local radio stations.       My work has also been featured in Baltimore Sun, Christian Science Monitor, Family Circle, Good Housekeeping,Glamour, InStyle, Plenty, Body and Soul, Sierra, Wildlife, Ladies' Home Journal, Reader's Digest, First for Women, Washington Woman, and many more. As a nationally syndicated Washington Post Writer's Group newspaper columnist, I wrote weekly "Tips for Planet Earth," answering readers' questions on a wide variety of environmental topics. 
AWARDS AND RECOGNITIONS
Image of the Future Award, World Communications Forum
Glamour magazine Eco Hero
"16 Women in Sustainability You Must Follow", Earth & Industry
"100 Must Read Green Blogs for Women," Blogtrepeneur.com
"Top 50 Twitter Moms," Babble.com
"Top 25 Green Moms," CircleofMoms.com
"Best Green Website," FutureNow.com
Finalist, Books for a Better Life Award/MS Society
5-Star Reviews, Amazon.com – The Big Green Purse book averages a 5-star rating — the highest possible — on Amazon.com.
Top 100 Environmentalist Blogs –
SPEECHES & WORKSHOPS
I am a frequent speaker to business, non-profit and consumer groups. Audiences have included the American Bankers Association, The Discovery Channel, Toyota's In the Interest of Women Conference, Texas Conference for Women, Pacific Life Insurance Company, Harvard University, Unitarian Universalist Church, U.S. Environmental Protection Agency, Brandeis University, Good and Green, M2W – the Marketing to Women conference, the International Green Living Conference in Xi'an, China, and the sultanate of Oman, among others.
If you need a speaker at your next event, please get in touch here: Book Diane