Celebs attending the Sundance Film Festival dropped by our Sustainability Suite today and got a good dose of "eco" to take home with them (along with a few environmentally-friendly goodies). Highlights:
WHO – Among those who dropped by were Bill Pullman (left, with me), the "president" in the blockbuster film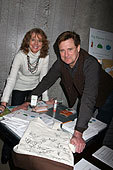 "Independence Day" and Elle Fanning, the charming nine-year-old who stars with Pullman in "Phoebe in Wonderland," which premiered at Sundance.

Tim Daly of the hit TV show "Private Practice" also stopped in, saying that he and his family live a very "eco" lifestyle in New England. And Rachel Smith (right), Miss USA 2007

, couldn't have been more enthusiastic about the idea of using her own "big green purse."
Meanwhile, Jeremy Glazer of the Oscar-winning "Letters from Iwo Jima," plus rapper "Dr. Oz," various tv personalities, and the manager of the band Alice Cooper (!) mingled with stars from the movie "2 Fast 2 Furious" – not an eco-flick, but that didn't stop the guys from proclaiming their enthusiasm for all things earth-friendly.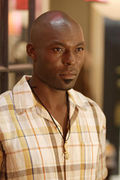 Jimmy Jean-Louis (left), the "Haitian" on "Heroes," said hello, too. Like the others, he happily took a copy of the Big Green Purse booklet we're handing out as a prelude to the publication of the entire book in February.
WHAT – Everyone who visited our suite graciously agreed to participate in our Sustainable Hands of Fame project: after dipping their palms in non-toxic, no-VOC Olympic paint (green, of course), they stamped

their handprint on a beautiful Marmoleum floor tile (made by Forbo, Inc.) that's crafted from recyclable, bio-based materials. The tiles will be auctioned on EBay, with profits going to charities like Alaska Wilderness League and World Peace One. Anyone needing a break took a breather on the beautiful furniture made from reclaimed teak by Groovy Stuff.
As Hollywood Reporter TV cameras filmed the rappers jamming in front of the Sustainability Suite sign-in, I talked with producers about including more eco-tips in their upcoming productions. No promises yet – but these indie filmmakers couldn't have been more receptive to the idea of "going green."