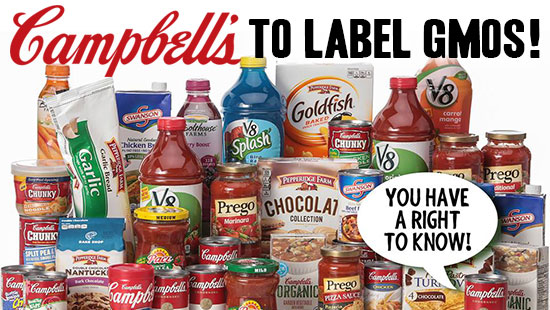 In a major victory for all of us who believe we have a right to know what is in our food, the Campbell Soup Company has decided to voluntarily disclose the presence of genetically modified organisms (GMOs) in its products.
Campbell said it supports federal legislation that would require "all foods and beverages regulated by the Food and Drug Administration (FDA) and the U.S. Department of Agriculture (USDA) to be clearly and simply labeled for GMOs."
Campbell also supports a national standard for non-GMO claims all food manufacturers display on their packaging.
That means that, here on out, not only Campbell's Soups but other products in the Campbell's line, including Pepperidge Farm, Bolthouse Farms, V8, Swanson, Prego and Royal Dansk, will reveal when its ingredients contain GMOS – and when they don't.
(In case you can't read the label, right, it says: "Partially produced with genetic engineering. For information about GMO ingredients visit Whatsinmyfood.com.")
Most food companies vehemently oppose GMO labeling, because they worry that if consumers know genetically modified organisms are in their food, they won't buy it.
However, 92 percent of Americans support GMO labeling, said Elizabeth O'Connell, director of consumer advocacy for Green America. Campbell's decision supports "the people's Right to Know what's in their food," she said.
Don't Miss: The 7 Most Important Reasons to Avoid GMOs
Campbell's President and CEO Denise Morrison said that the company supports mandatory national labeling of foods that contain GMOS due to consumer demand.
"We are operating with a "Consumer First" mindset. We put the consumer at the center of everything we do.  That's how we've built trust for nearly 150 years.  We have always believed that consumers have the right to know what's in their food.  GMO has evolved to be a top consumer food issue reaching a critical mass of 92% of consumers in favor of putting it on the label.
In addition, we have declared our intention to set the standard for transparency in the food industry. We have been openly discussing our ingredients, including those derived from GMO crops, through our WhatsinmyFood.com website.  We are supporting digital disclosure through the Grocery Manufacturers Association's (GMA) SmartLabel™ program.  We have announced the removal of artificial colors and flavors from our products.  However, our support of mandatory federal GMO labeling sets a new bar for transparency.
Morrison noted that individual consumer campaigns being waged from California to Maine to force companies to label products ultimately forced the company to support a national law.
Without the efforts by groups like Green America, Environmental Working Group, JustLabelIt.org, and of course, Big Green Purse, to mobilize consumers, Campbell's may not have voluntarily agreed to be so transparent.
If you ever wonder if your individual purchases make a difference, wonder no more. They do! They help protect you and your family first and foremost. But they can also force powerful corporations to do the right thing.
Hooray!
Read Campbell's complete corporate statement here.
Read the complete statement of Denise Morrison, Campbell's President & CEO, here.
Top image reprinted with permission of GreenAmerica.org.