We read food labels to avoid trans fats, sugar, and salt. Why not read labels on the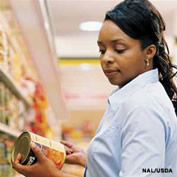 cleansers, personal care products, furniture, clothing, carpeting and home improvement goods we buy so we can shift our spending to those that best protect the planet?For example, the Institute for Market Transformation to Sustainability (MTS) rates building products, lighting, fabrics, apparel, textiles and flooring. Its SMART standard reflects a manufacturer's success in reducing more than 1300 pollutants; in using renewable energy as well as post-consumer recycled or organic materials; and in reusing materials to save energy, water, and other resources. Through this "life cycle assessment," SMART encourages industries to achieve ambitious environmental goals that benefit society and the economy, too.As you shift your spending to the most earth-friendly products and services, choose those that have been certified to meet sustainable standards. You'll help reduce climate change, protect clean air and water, and help save rainforests and other natural resources.Sustainable standards to look for: 

SMART Certified Sustainable Lighting, Furniture, Flooring, & Building Products

SMART Certified Sustainable Apparel, Fabric & Textile

Long Life, Low Mercury, Energy Efficient Lamps Including Compact Fluorescents (LEED EB)

Energy Star Lamps, Lights, Appliances, & Electronics

LEED, Energy Star & Climate Neutral Certified Homes


Green-e Power, Green Tags & White Tags


Clean Vehicle Standard including high fuel efficient hybrids
---
What About Fair Trade? 
"Fair Trade" certification indicates products have been produced without child labor by

adult farmers who are paid a living wage for their work. Look for Fair Trade certification on:
Coffee
Tea
Cocoa
Chocolate
Tropical fruits
Rice
Clothing and Crafts
---
What About Cosmetics and Personal Care Products?
There are no sustainable standards for cosmetics, shampoo, body lotion, deodorant, sun screen and other personal care products. Your best bet is to check what you use against the Cosmetic Safety Data Base developed by Environmental Working Group for products that contain the least harmful chemicals.