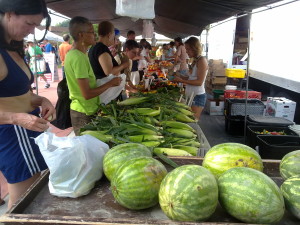 Buying food that's locally grown is one of the most influential – and beneficial – ways you can spend your money to get the world you want.
Buying local benefits the environment buy reducing the amount of oil needed to transport food long distances. On average, most supermarket foods travel about 1,500 miles to get to your plate. Locally grown food only travels about 57 miles. When you buy local, you ease our dependence on petroleum, help clean up the air, and reduce the climate change that's associated with transportation.
The typical American meal contains ingredients from five countries other than the U.S. Those food purchases do not strengthen our economy or bolster the livelihoods of our own farmers. Buying local does. A recent study by the Maine Organic Farms and Gardeners Association estimates that by encouraging Maine residents to spend just $10/week on local food, $100,000,000 would be invested back into farmer's pockets and the Maine economy each growing season. The same investment could be made in every state in the country if residents opted to buy local.
Because it is freshly picked and not over-processed or packaged, locally grown food tastes better. You can also often find greater variety among locally grown foods, including heirloom fruits and vegetables that chain stores never stock.
Buying local helps save farmland. More than one million acres of farmland are lost each year in the U.S. to residential and commercial development. Supporting local farmers helps them stay on their land and thrive economically.
How to Buy Local
You can buy fresh locally grown food at any one of the 3,100 farmers markets in the U.S. To find a farmer's market in your state, go here.
You can also join a CSA, which stands for Community Supported Agriculture. In a CSA, a group of "share holders" pledge in advance to cover the anticipated costs of the farm operation and the farmer's salary by paying a lump sum. In return, they receive, usually on a weekly basis, a share of the farm's bounty throughout the growing season. Growers receive better prices for their crops, gain some financial security, and are relieved of much of the burden of marketing. Consumers get a direct connection to the farm, very fresh food, and the satisfaction of helping promote sustainable agriculture. To find a CSA near you, go here.You can pick your own. Check out your options here.

You can grow your own. If you don't have a backyard or a porch, take advantage of community gardens.
Find Good Food Near You. Want fresh, locally grown food, but don't know where to find it? The Local Harvest community level map makes it easy to locate sustainable farmers, farmers markets and Community Supported Agriculture projects (CSAs) in your area. You can click on a map or enter your zip code to get quick results.
You won't be able to stock your entire pantry with locally grown foods. But you should be able to come pretty close. Use the power of your purse to favor local foods rather than their imported cousins. (Remember: Why buy apples from New Zealand if the apples grown in your own valley are just as tasty?) Set aside a small portion of your food budget for the items you really can't get from your neck of the woods but feel like you have to have at least once in a while, like chocolate, tropical fruits, nuts, and those processed corporate snacks you just haven't been able to give up yet.
In My House
I have the good fortune of living three blocks from a farmer's market that's open year round. The best time to shop there is mid-summer to early fall, when the harvests start coming in and the food is so fresh it still shimmers with the morning dew. But regardless of the season, the stands overflow with delicious fruits and vegetables, freshly baked breads and pastries, homemade jams and cheeses, and organic eggs and pasta.
When I can't get to the farmer's market, I make a point of asking for locally grown produce at my back-up, the neighborhood Safeway. Even though it's a big chain store, it's started carrying a lot more local fruits and vegetables when they're in season (consumer demand has really had an impact on them!). Besides, the store's the only place I can get the exotic foods my kids love but that I can't buy locally: things like kiwis, Clementines, and chocolate, a rainforest goody that seems about as far away from my mid-Atlantic household as the moon.
I know I can't buy everything locally. I try to buy strategically, spending the majority of my food dollars on foods that are grown in my region and that give farmers here a competitive advantage. Buying strategically also sends a message to Safeway to buy from my farmer "neighbors" rather than import the same product from New Zealand . Is it inconvenient to have to shop at more than one place? Sometimes. But I usually have to go food shopping more than once a week anyway. I make one of those trips to the farmer's market, and one to the grocery store. It evens out.
Give Locally Grown Food a Try!
Buying local may require some getting used to, because it means that you're buying what's available on a seasonal basis. In other words, no fresh tomatoes in January, at least not from the farmer's market. You might want to get started in the summer, when there's a lot to choose from and buying local seems to make the most sense. Over time, as the seasons change, your cooking and eating habits may gradually change as well. The goal doesn't need to be to make all purchases local, but rather, to buy more of your purchases from local vendors.