Valentine's Day is a great time to make the shift to organic fair trade chocolate. Take advantage of holiday sales to try a new flavor or stock up on your current favorites. Plus, use your spending power to send a message to companies that still produce chocolate the mean way that, if they want your love, they've got to show more love to their workers and the planet.
For Valentine's Day, here's our first annual review of organic fair trade chocolate you can easily buy in stores or online.  Brands that are "Big Green Purse approved" are non GMO, Fair Trade, and organic.  In our Amazon store, we also list brands that are organic and Rainforest Alliance Certified, but not necessarily Fair Trade. Sorry for the complication — but don't blame the messenger! The Rainforest Alliance certification includes good criteria pertaining to the treatment of workers, but it's not as focused on small farmers as the Fair Trade certification. (NPR explains the differences between the two certifications here.) Our top recommendations go to brands that are Fair Trade certified, as well as organic. Many are non-GMO, as well.
Note: In some cases, we've linked the chocolate to where you can find it in our Amazon store. You may also be able to find it in your local find co-op, natural foods grocery, or elsewhere online. If you want to skip to our Amazon store to see most of our recommendations in one place, here's the link. 
Big Green Purse-Approved Organic Fair Trade Chocolate
Salazon – Cacao beans grown under the shade of canopy fruit producing trees in the Dominican Republic lend this chocolate their delicious taste. In addition to sea salt, Salazon flavors its chocolate with spices like cayenne and pepper, an adds crunch with coffee, almonds and coconut. Plus, it's vegan.
Nibmor – Nibmor stands for Nibble More, and they won't have to twist my arm. Available in dark chocolate, almond dark chocolate, mint, crispy with rice, and extreme dark chocolate with cacao nibs.
Endangered Species Chocolate – This is often my go-to chocolate bar of choice. It's often on sale, is easily available online and where I shop, and there are lots of flavor combos to choose from. In addition to the dark chocolate with sea salt & almonds pictured here, you might like dark chocolate with raspberries, forest mint or espresso beans. You can get a variety pack of 12 flavors if you want to try all the options available. 
Theo – Theo's is a reliable go-to for delicious and flavorful chocolate. In addition to bars, they sell caramels, confections and gift collections that include peanut butter cups. Looking for drinking chocolate? Choose between the chipotle spice or the rich dark mixes. Want to pair your favorite wine or beer with something equally decadent? They offer that, too.
Equal Exchange – Equal Exchange continues to make delicious chocolate even as it sets the bar high for organic and fair trade products. Like dark chocolate? You'll love their "very" dark options. The bars infused with orange and mint are a treat, too! But don't stop there. If you like nuts, you have hazelnuts and almonds to choose from – or that other nut, coconut. On the milk chocolate side, try the salted caramel and for more crunch, there's a bar studded with coffee nibs. Can't decide? Get a sampler box and try a few. Equal Exchange also sells bite-sized chocolates in a nifty dispenser.
Green & Black's – Green & Black's is pretty mainstream. My local Whole Foods and food co-op carry it, but so does my nearby Safeway. Try the milk chocolate toffee, dark spiced chili, or Maya gold for starters. They sell baking cocoa, too, in case you want to use their cookbook to make your sweetheart a decadent dessert.
Taza – Taza employs a stone-ground process based on traditional techniques used in Oaxaca, Mexico, where the cacao beans are grown. Cinnamon is one of four interesting flavors they work into their wheels.
 Alter Eco – These chocolates from Switzerland include individually wrapped dark and milk chocolate truffles, plus four kinds of bars that include almond, mint, sea salt and cacao, a dark blackout bar, a dark quinoa bar, and a dark brown butter bar. Yum!
Sjaak's – Try this yummy assortment of 9 European chocolates, one of the only organic and fair trade brands that comes in a gift box. Don't miss their vegan assorted chocolate box, either.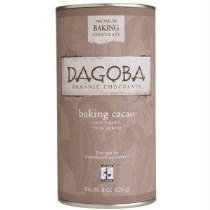 Dagoba – Like cranberries. One of Dagoba's bars includes them, along with other flavors. Don't want to eat a whole bar? Try the choco drops. And if you're in the mood for hot chocolate or a chocolate cupcake, Dagoba sells unsweetened drinking chocolate as well as baking cacoa.
Do you have a favorite organic fair trade chocolate? Please let us know.
And remember, you can see our complete list of organic chocolate that's either Fair Trade or Rainforest Certified here.