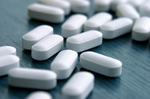 If you're pouring them down the drain or flushing them down the toilet, they could be.
Studies by the U.S. Geological Survey and the Environmental Protection Agency have found fish, frogs and other aquatic animals with both male and female sex organs, freaks of nature they attribute to the growing amounts of pharmaceuticals showing up in rivers, lakes and streams.
The pharmaceuticals include narcotics, birth control drugs, anti-depressants and other controlled substances that most wastewater treatment plants aren't equipped to remove. One study found nine male smallmouth bass in the Potomac River near Washington, D.C.carrying female eggs inside their sex organs.
You can read all about it in the July/August issue of E Magazine (see "Water Worries: Drugs are turning up in drinking water and causing bizarre mutations.").
Meanwhile, if you're disposing of pharmaceuticals you no long need, toss them in the trash, not down the toilet. You can also contact Earth Keepers, (906) 228-6095, a grassroots group that organized a highly successful program in Michigan to collect old drugs to keep them out of the water.